Beautiful, Spacious Rooms
All rooms include air conditioning, a flat-screen TV with satellite channels. Guests enjoy views of Akrotiri village, the sea or the garden from their private balconies.
Joe, UK
Quiet location but easy to reach the rest of the village. Near road to access all areas of the Santorini island. All staff were extremely helpful and hospitality was faultless, especially the breakfasts. Great pool and loungers on site.
Diana, Netherlands
The staff was really great over our stay there! Very helpful and friendly! The breakfast was really amazing! Great spot, will be back!
Fernando, USA
I am not sure how to start because it was an excellent experience starting from the charming manager, the entire crew, the breakfast (my sister came from another nearby hotel just to taste it). Yes, I will come back to this quiet and cozy place.
Petra, Slovakia
The personnel was amazing, even on the way to the Santorini airport they picked us up by car, so we didn't need to travel by bus. The breakfast was amazing! One day we had it in room, another day on the balcony, third day near the pool. Everything was perfect! I would come back definitely.
Heather, USA
First off, the manager was amazing. Very helpful and made sure we had everything and anything we needed/wanted. Breakfast was tasty and huge! The room was well kept, clean and cozy. The pool is huge and a fun place to lay out and relax. The rest of the staff was also super sweet and kind. Whenever we come back we will be staying at this hotel only.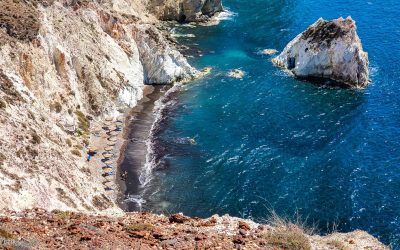 Ready to spend some time swimming while visiting Santorini? Check out the White Beach, Red Beach and Caldera Beach near Akrotiri.
read more
An Authentically Greek Experience