Celebrating Greek Orthodox Easter in Santorini is highly desirable. This one-of-a-kind celebration brings travelers from around the world and kicks off the tourist season on the island. Orthodox Easter is on April 16, 2023. Learn about Easter customs, things to do and why this time of year is the ideal week to plan a vacation to Santorini.
Can't-miss Santorini Greek Orthodox Easter Traditions
Easter is extra special in Greece and is the holiest celebration to take place all year. If you're in Santorini during this sacred time, be sure you engage in these activities. Greek Orthodox Easter takes place one week after Catholic Easter. It starts with Holy Week, a solemn time that ends with the jubilation of Easter. Churches host most of the festivities leading up to Easter, though one tradition takes place in the streets of Pyrgos Village. Here's a look at what to expect on Good Friday, Holy Saturday and Easter Sunday.
Holy Week
Throughout Holy Week, which is the week leading up to Easter, residents of Santorini begin preparing for Easter in a variety of ways. Each day, the faithful will fast and attend church. Fasting involves consuming no meat, fish, dairy or alcohol. Many local restaurants cater to the needs of the faithful during this time with delicious vegan dishes. You can expand your palette by trying one of these dishes.  While you might not understand everything that is happening at church during Holy Week, taking part in these services leading up to Easter can offer a sense of peace, tranquility and purpose behind the holiday. Good Monday begins by preparing the dough for melitini. This is a pie made with a thin dough layer and mizithra cheese, mastic, eggs, sugar and butter. Throughout this week, you'll enjoy incredible baking aromas.  During Holy Thursday, locals bake Tsoureki, which is a type of brioche bread. This is also when locals bake Easter cookies and dye eggs red. Eggs are a symbol of new life. Greek Orthodox Christians also view the egg as a symbol of Jesus's empty rock tomb after his rising. Dyeing the eggs red symbolizes the blood of Jesus.
Good Friday
On Good Friday, you can join an epitaph walk. The epitaph is the coffin of Jesus. You'll find the walk in all villages, but the most impressive ones are both at Pyrgos Village and at Akrotiri. As you approach the center of either town, look down and see the flickering flames from lit tins that illuminate the path for the epitaph village walk. People will also place flames on rooftops. This view during Good Friday is one that people will travel from all over to enjoy. As people take part in the epitaph village walk, they'll hold candles, adding to the solemn, yet stunning, atmosphere. Visitors enjoy the opportunity to take in the stunning hillside views that the solemn walk offers. It is a truly atmospheric, yet holy, experience that many call the experience of a lifetime. After the epitaph walk, enjoy Good Friday vegan meals to join in the tradition of fasting.
Holy Saturday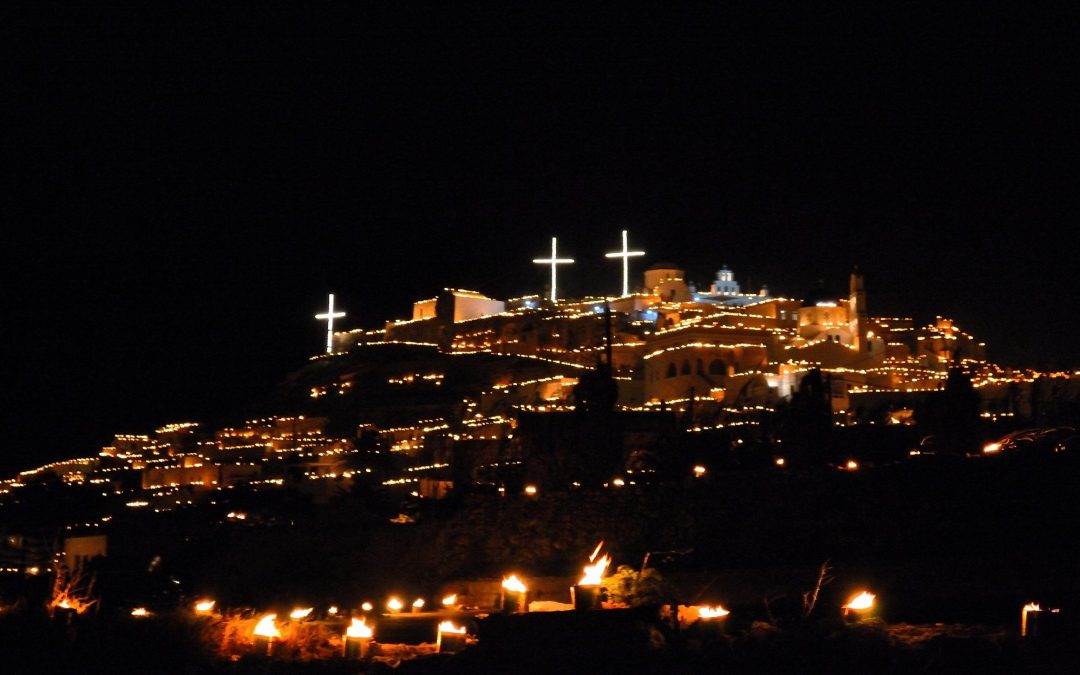 The night before Orthodox Easter, many people will attend the church just before midnight. Because of that, many join for a meal shortly after noon. Generally, this meal is magiritsa, a soup made from the lamb that you'll eat the next day to celebrate Easter. It marks the end of holy week fasting. Holy Saturday church services focus on the resurrection of Christ. Churchgoers will bring candles, which the priest will light using the Holy Flame as they sing "Christos Anesti," which means Christ is risen.
Easter Sunday
Join Santorini in celebrating Easter in one of its historic and beautiful, blue-domed churches. Each church will host a great celebration for Easter as religion is significant to locals.  The Orthodox Metropolitan Church of Santorini is in the town of Fira. It dates back to the 1827 but was restored in 1956 after an earthquake damaged it significantly. Pause for a moment and take in one of the must beautiful views in Santorini of the caldera and volcano. The architecture is also something to behold with rolling arches. Inside the church is quite ornamental and includes local artist Christoforos Asimis's frescoes. To celebrate the religious holiday, many people will roast a whole lamb over a fire pit. The process takes several hours. Then the family will gather to enjoy the feast. 
What to Do in Santorini During Your Stay
While Easter festivities will be central to your visit during Holy Week, you can still take advantage of visiting the beautiful island. Whether you're religious or not, Easter is a great time to travel to the area. Here are some activities you can still make time for while participating in Holy Week traditions.
1. Visit the Beach
Santorini has stunning beaches, especially Perissa and Perivolos as well as Kamari. The Red Beach is unique and legendary due to its black and red volcanic rocks, located in the same area as the Caldera Beach – the only beach facing the Caldera side of the island – and the White Beach, very close to the only lighthouse in Santorini. At the Light House, you can see the most incredible sunset away from the crowds. These dark-colored rocks contrast with the clear seawater to create a unique landscape.  Because the beach is formed from volcanic rock, avoid wearing flip flops or other open-toed shoes since the road to get to the beach is rough. 
2. Head to Ancient Akrotiri
Combine your trip to the Red Beach with a trip to Ancient Akrotiri prehistoric ruins since they are close to one another. Along the way, you'll find pop-up shops where you can purchase souvenirs.  This town was once inhabited by 30,000 people. Archeologists are still working in the area to learn more about ancient Greek civilization. The entire town disappeared instantly due to a volcanic eruption in the 16th century BC. Consider hiring a tour guide to visit the site.
3. Enjoy Fava Beans
Fava beans are like the Greek version of hummus, and they fit within the constraints of Holy Week fasting. These pureed beans are topped with fresh or caramelized red onions and drizzled with olive oil. You'll find the dish at most Santorini restaurants.
4. Hike
The trail between Oia and Fira offers a two-and-a-half to three-hour hike. While there are some steep points, it's a rewarding hike thanks to the stunning views. You should be in decent shape to complete the trek and be sure to take water with you to avoid exhaustion and dehydration. 
5. Tour a Winery
If you'll be fasting during Holy Week, plan to stay for at least a day after Easter to enjoy a winery tour. Two of Santorini's wineries have stunning views, plus the wine is delicious. The wines you can enjoy in the area get exported all over the world thanks to the famous island vineyards. A vineyard tour gives you access to the stunning grounds and teaches you a bit more about the rich history of these historic wineries, dating back to 1500 BC. The most picturesque winery is the SantoWines Winery near Pyrgos Village.
Preparing for a Trip for Greek Orthodox Easter in Santorini
Santorini is a stunning Greek island to visit for a trip. But visiting during Greek Orthodox Easter will make it extra special and unique. Plan well in advance for your travels as Easter is a popular tourist time on the island. If you're looking for an authentic Santorini experience, stay at The Fisherman's House. The traditional house provides luxury hospitality in Akrotiri Village. The location is superb. You'll be just 1,500 meters (.93 miles) from the famous White Beach and 1.4 kilometers (.87 miles) from the Red Beach and across the Caldera Beach (downhill). The property is family-run and includes a private swimming pool. Enjoy the unique complimentary continental breakfast that is delivered to your room each morning. Many rooms have stunning views of the pool and comfortable accommodations. Book now to experience the solemn Holy Week festivities.
  Further Reading: