The swimming in Santorini is unique and beautiful. The water is crystal clear, while the geological formations are quite different from other areas of the world due to coming from a volcano.
While the Red Beach is mostly made from these volcanic rocks, the White Beach in Santorini offers a more classic appearance that most people are used to. As you look for the best swimming on the island, review this list and start making your travel plans.
Akrotiri Santorini White Beach
Standing on the beach and looking out at the water on the White Beach, you'll feel like you stepped inside a travel brochure. It's absolutely stunning and worth the trip.
The Santorini, Greece, White Beach has stunning crystal clear waters that will call to you. The beach is somewhat secluded. As the name suggests, you'll be surrounded by white rocks. You'll find small black pebbles in the water though that make for a neat contrast. 
Stepping into the water is easy as the coast has shallow water. While planning your beach day, be aware that the beach is small, which means there aren't many amenities. It only has a few sunbeds and umbrellas. You'll need to pack your own snacks and beverages and plenty of sunscreen. Depending on the time of day, you might be able to find a shady spot thanks to the sun obstruction the cliffs provide.
You might be wondering how to get to the White Beach in Santorini. It's close to the Red Beach and located inside the village of Akrotiri. But while the Red Beach is simple to reach from your Santorini guesthouse or hotel, the Santorini White Beach is challenging to reach on your own. 
You can't reach the beach by car. You'll need to follow a path that starts near Kambia Beach or take a boat to the beach. Many tours offer a unique view of both the Red Beach and White Beach to give tourists the chance to experience both from the water. Some boat tours also include classic Greek food and drinks. But if you want to stay and relax, you might have to hail a taxi boat. 
The White Beach is considered a must-see place to capture a photo during your stay. So whether you take a boat tour and see it only from the water or you plan a beach day there, you'll get the picture-perfect moment.
Red Beach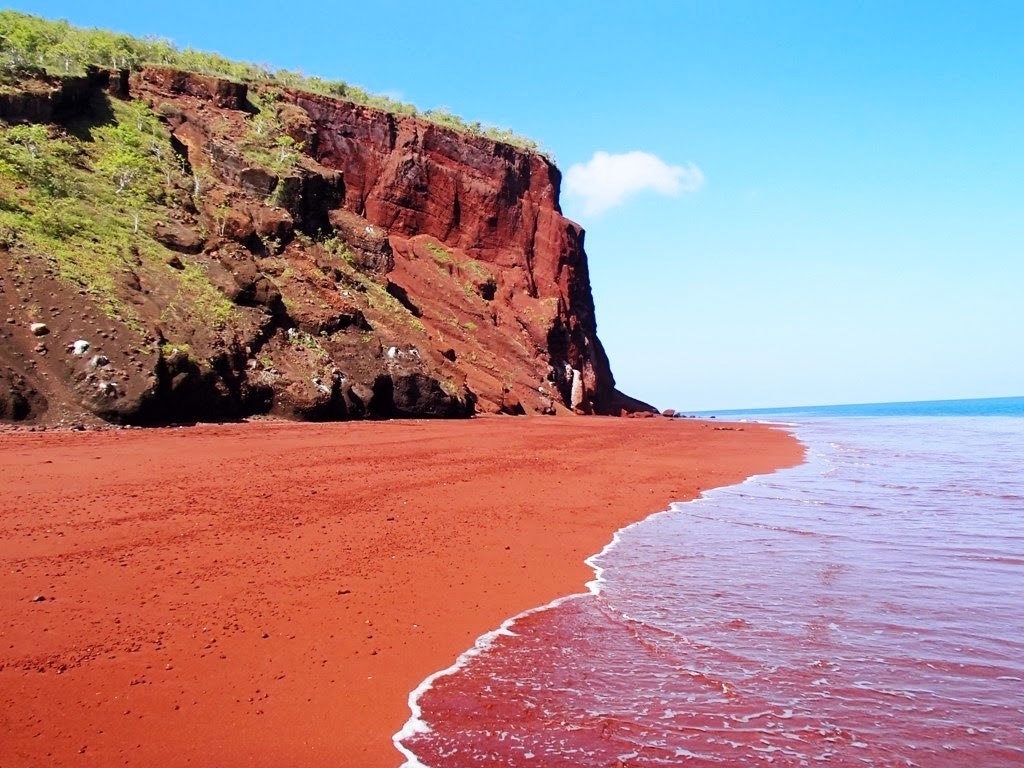 As the name suggests, the Red Beach is not one of the white sand Santorini beaches. Instead, you'll find neat red lava rock landscapes that offer a stark contrast to the clear blue waters. It's a must-see beach because of its unique coloration.
Enormous volcanic rocks will surround you on the beach. And with that will come some areas that are roped off for your safety to avoid injury from falling rocks or loose rocks that locals don't want you to disrupt.
If you want to snorkel or scuba dive, you'll see some unique marine life underwater as well. You can engage in snorkeling with a tour guide or bring your equipment and enjoy exploring on your own. Just make sure you remain a safe distance from marine life and be smart about not getting too far from shore.
The Red Beach is also located in Akrotiri village. If you're staying in Fira, it's just a 20-minute drive. Or you can take a boat tour to reach the Red Beach. You'll also find that the Red Beach is a stop on the island's public bus service. Traveling by bus is the most affordable form of transportation outside of walking. 
Regardless of whether you visit the beach on foot, by car or bus, you'll need to be ready to make the trek down to the shoreline using the small footpath. Be sure to wear smart, comfortable and protective footwear for this part of your journey. It's rather steep and very rocky. 
The Red and White Beaches in Santorini have one thing in common, they are semi-organized, meaning there have limited resources for sunbeds, umbrellas, and food and beverages once you reach the shoreline. Instead, it's wise to come equipped with everything you'll need to enjoy your beach day as publicly available resources are scant.
However, you can find several locations to stock up on supplies at the top of the footpath before making your descent. 
If you travel to the Red Beach for a day, you might consider exploring other unique sites in Akrotiri. You won't want to miss the Minoan Akrotiri Excavation site or the lighthouse. When visiting the excavation site, you might consider joining a guided tour to learn more about what you're looking at as you explore. And if you're planning to visit the lighthouse, the best time of day is sunset because you'll catch a stunning view.
Caldera Beach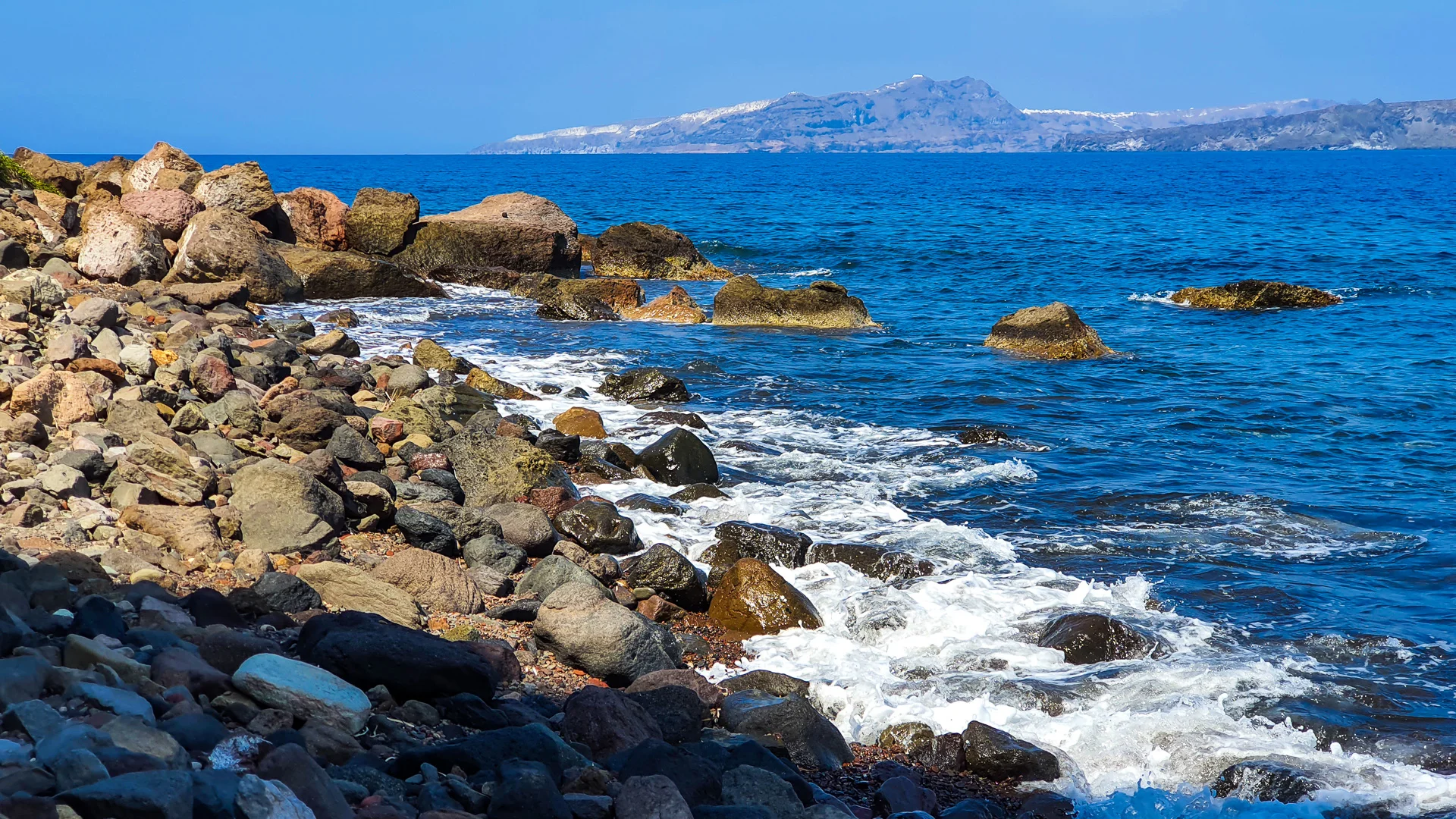 Caldera Beach features black volcanic sand, gravel and rocks. If you want to scuba dive while on the island, this is a great place to do so because you'll see incredible rock formations underwater. When planning your trip to swim at Caldera Beach, be sure to bring water shoes. The sand is rocky and not very comfortable to navigate barefoot. 
The beach formed due to a large depression from a volcanic eruption. It is one of the largest calderas worldwide with a diameter of 10 km. At its deepest, the caldera is 350 meters.
You can rent sun loungers and umbrellas on the beach, but you'll find these resources to be quite limited. While exploring the beach, you'll notice that it is not a super touristy area, which most travelers welcome for some peace and quiet during their stay.
Plan to arrive early to get one of the spots in the shade of one of the trees at the beach. And if you start to get hungry, you can head to Panorama restaurant nearby to take in stunning views while enjoying authentic Greek cooking. 
Getting to this beach is a bit easier than the White Beach or Red Beach because it has a convenient free car park. It is also located near Akrotiri, offering you plenty of options for swimming when you stay at The Fisherman's House.
Staying Near the White Sand Beach and Other Excellent Swimming in Santorini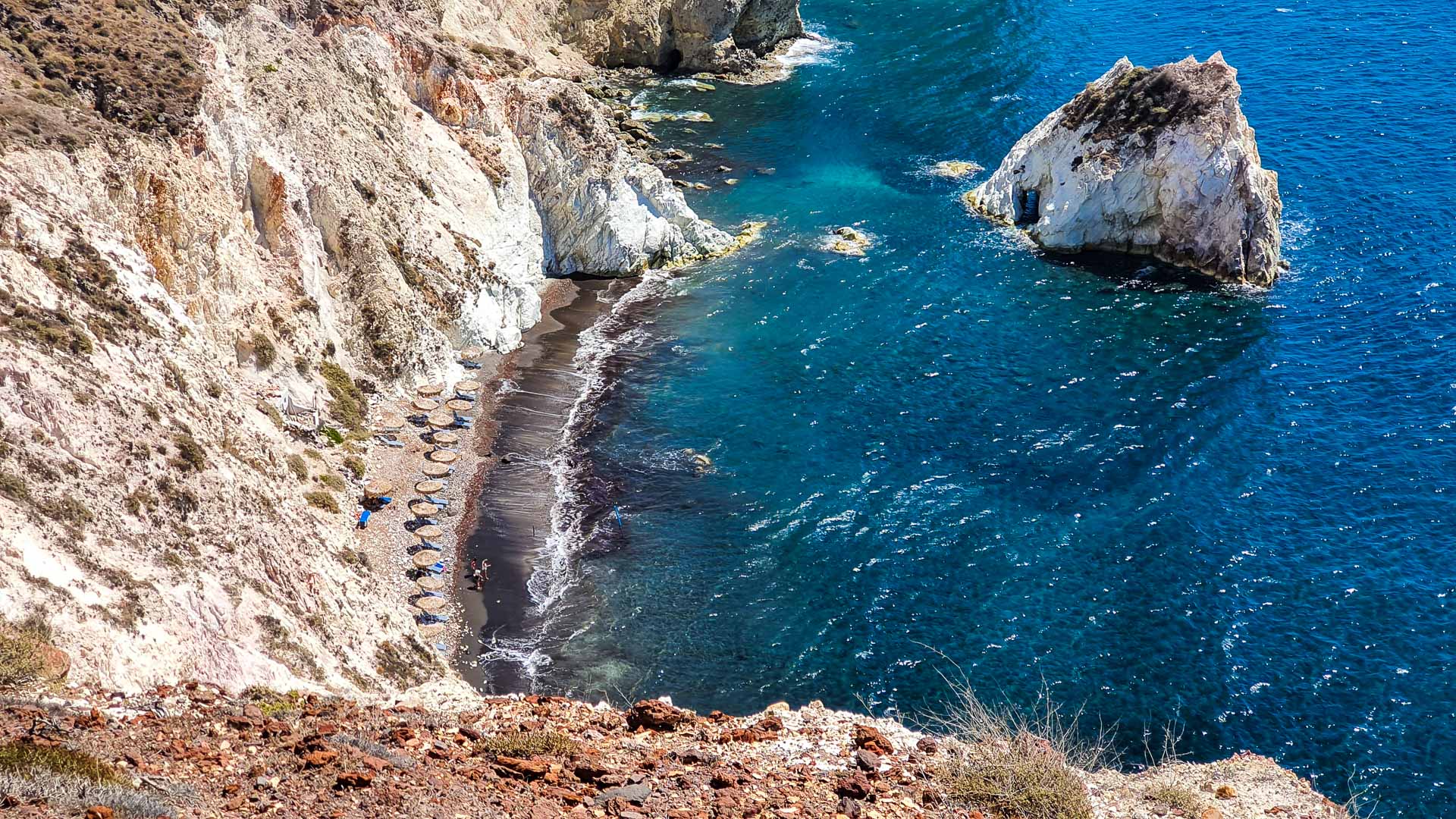 Akrotiri is home to many outstanding Santorini beaches. If you want to spend your days taking in unique landscapes while relaxing near the water, The Fisherman's House is an excellent choice for your overnight accommodations. You'll be near the White Beach, Red Beach and Caldera Beach. Plus, you'll enjoy a fresh and delicious breakfast in your room each morning alongside a private pool overlooking the coast.
Book your accommodations now to secure a quiet getaway in Santorini.
  Further Reading: