Isn't it wonderful to find a place where time stands still, allowing us to reconnect with our roots and appreciate life's simpler pleasures in a world that is always changing?
If so, Santorini might be the location you've been looking for. It is without a doubt among the most well-known and popular locations in the world where you can experience a remarkable blend of history, culture, and natural beauty.
Although Santorini is famed for its glamorous resorts and exciting nightlife, the island's real areas, which have maintained their history, and culture, and are a true reflection of traditional Greek life, have been hidden behind all the tourist activities.
If you're looking to explore the island's traditional way of life and timeless charm, away from the overcrowded tourist districts, you should consider these five most authentic Santorini villages: Akrotiri, Emporio, Mesa Gonia, Pyrgos, and Messaria.
1. Akrotiri – A Hidden Gem: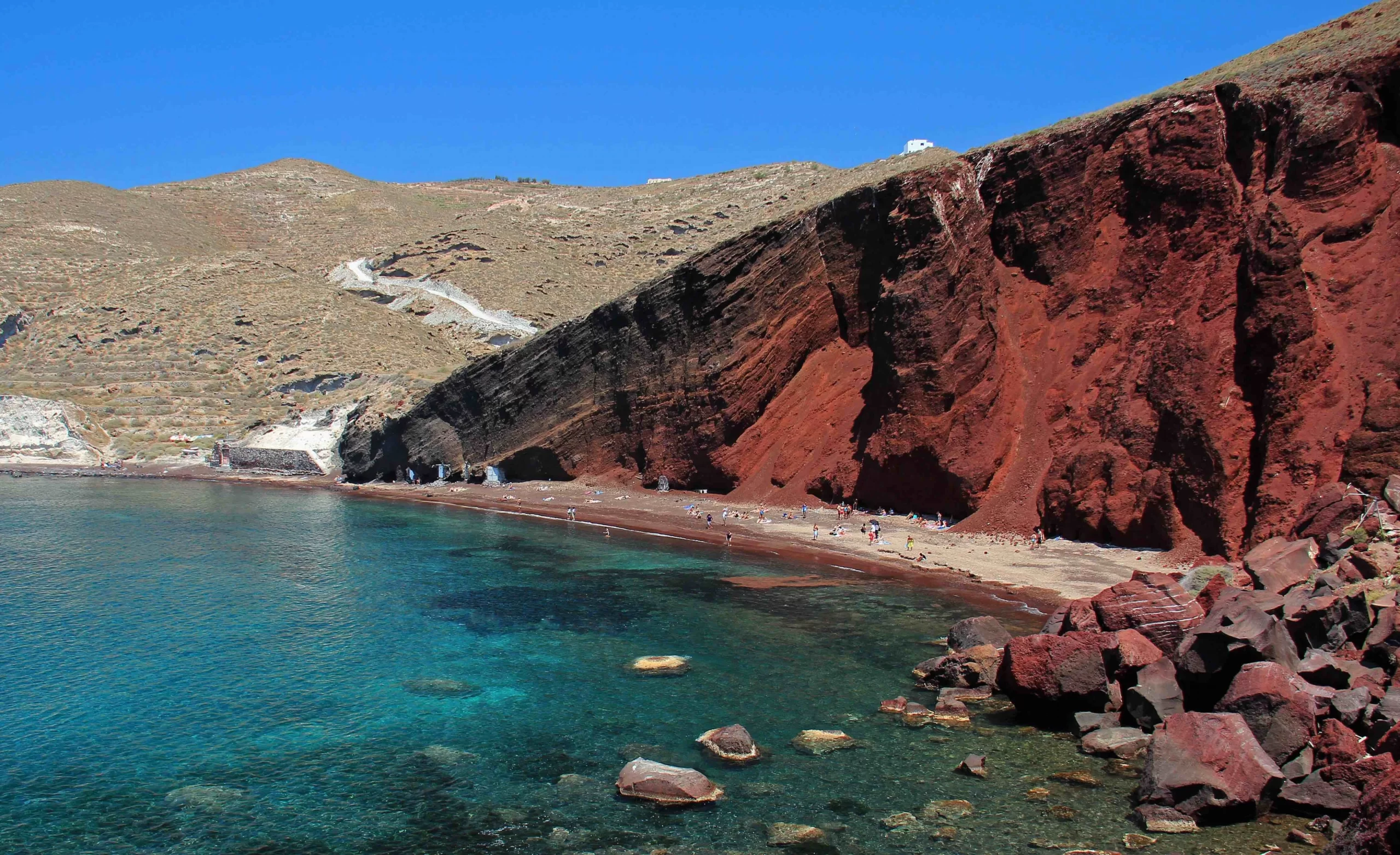 One of the less crowded places in Greece is Akrotiri – a perfect destination with its gorgeous red beaches and archaeological sites featuring amazing ancient monuments.
The village of Akrotiri is located on the island's southwest coast and was one of the most famous cities and an important economic center. Just like Pompeii, Akrotiri was once destroyed and buried under volcanic ash, but with the exception that no human remains were found. That is the reason why Akrotiri is also called Greece's Pompeii. However, it has been preserved in great condition, which allows you to visit the world of ancient civilization that can be admired in the Archaeological Museum of Thera. 
With its narrow cobblestone streets, stone houses, and peaceful atmosphere, Akrotiri successfully combines history with authenticity. Here, you may see amazing discoveries like paintings, pottery, and household items and you may feel the energy of Akrotiri when it was a vibrant and prosperous city.
Despite the fact that much of the island is still unknown and significant excavation work continues, there are still many attractions in Akrotiri that would fascinate you. These include water tours, the stunning Red Beach, the highest point in the village – Venetian Castle and Akrotiri Lighthouse, as well as a secret spot called "Pricky Pear" where you can enjoy a magnificent sunset. Aside from that, you may relax in peace and quiet while enjoying a meal at one of the village's antique taverns like The Good Heart.
2. Emporio – A Step Back in Time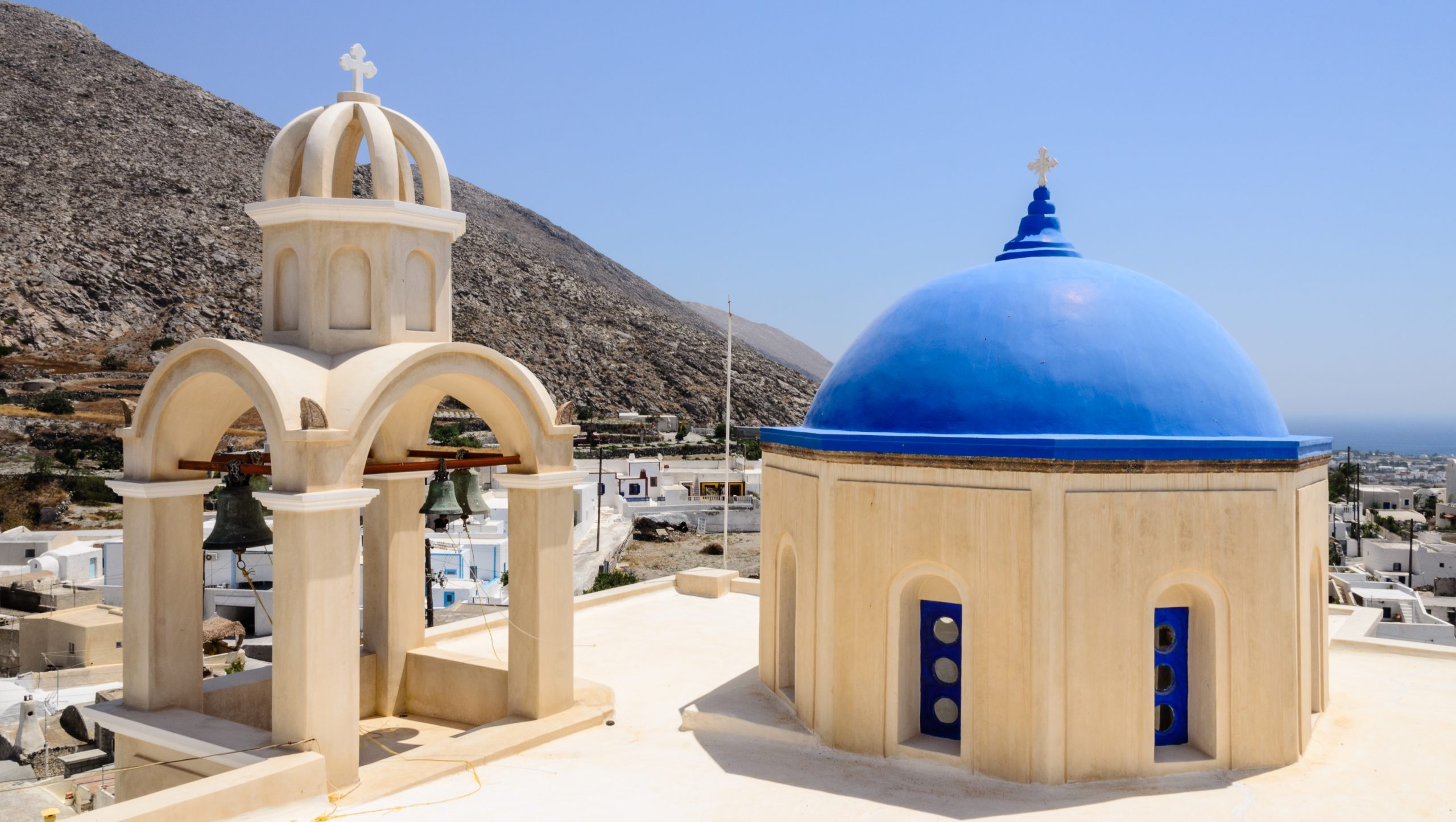 Emporio is an intriguing village with individual charm and a rich history that should not be missed out. It is located in the heart of the island and is one of Santorini's largest and oldest villages. Though it remains untouched by tourists, it offers a variety of unique experiences.
Emporio has an outstanding Cycladic Architecture, which is an actual journey through time. Here you can find the remains of a medieval fortress known as Kastelli – a Santorini must see. With its inhabitants' unique architectural approach, Kastelli is a labyrinth of hidden passages, intriguing gardens, vineyards, and underground paths where they not only built their homes but also churches and chapels. 
Emporio will allow you to experience the island's genuine traditional way of life in all aspects. Here you can find the most unique and beautiful churches in Santorini: the church of St. Nicholas Marmaritis, the church of Old Panaghia, and the church of Metamorfosi Sotiros (Transfiguration). Another destination worth visiting is the impressive Goulas Tower, an icon of the island's medieval past. 
When you visit Emporio, you'll be absolutely captivated by the island's traditions and culture as well as its warm hospitality and genuine charm.
 3.    Mesa Gonia – A Time Capsule of Tradition: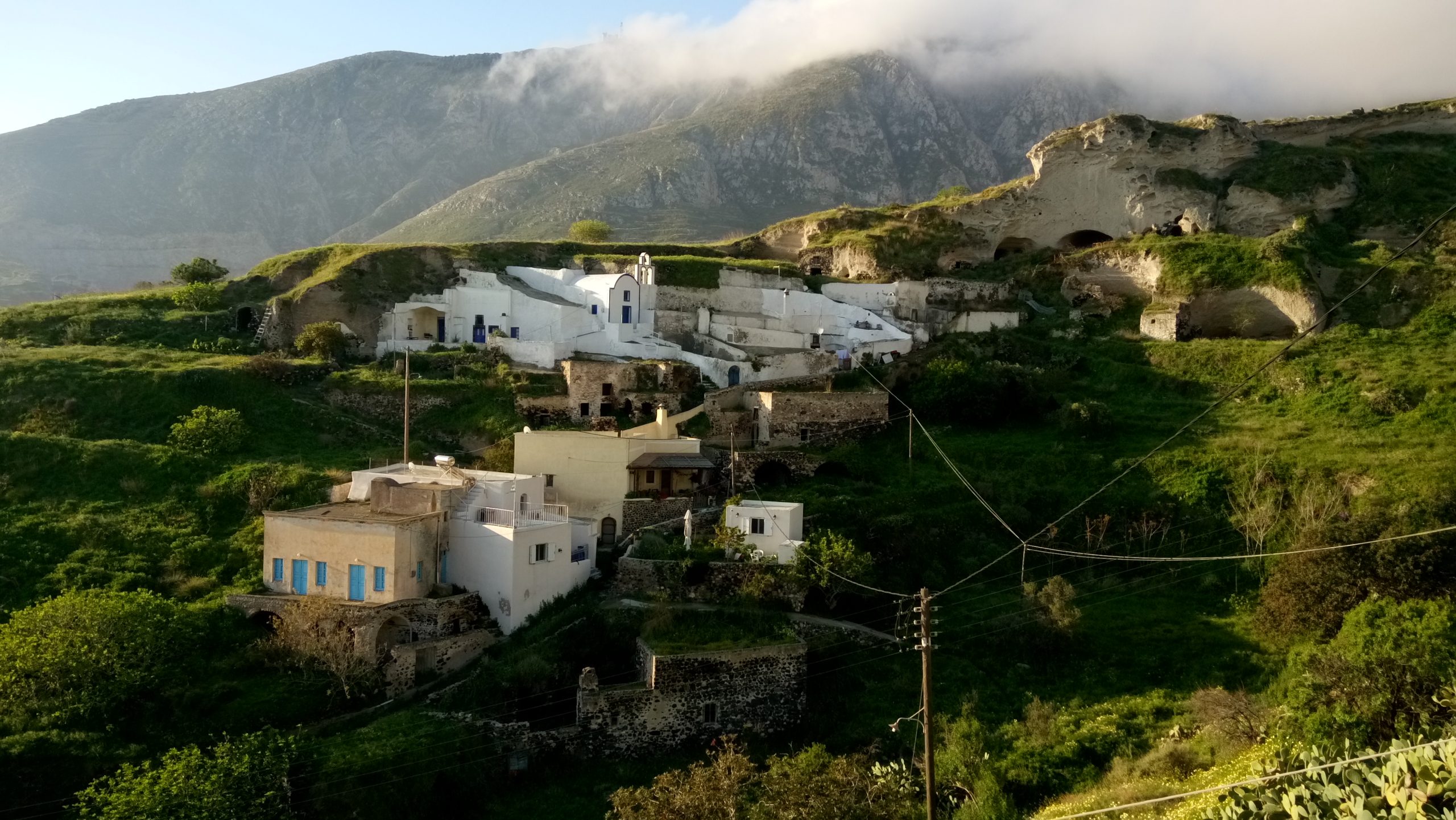 Mesa Gonia is another lovely village in Santorini's northeast worth visiting. It is the island's historical center and one of the most traditional villages, with old residences and traditions that have been kept intact.
Mesa Gonia, also known as Episkopi Gonias, is a perfect place if you want a quiet vacation away from the tourist crowds, however, the choice of hotels here is limited. 
This small village was once completely abandoned due to an earthquake, but in recent years, residents have started to return. The houses have now been repaired and painted, making it a lovely area to wander.
Mesa Gonia is well-known for its vineyards and wine. There are several traditional wineries in the region where you can discover various sorts of local wine like the "Canava Roussos Winery", located at the entrance of the village. If you are a wine enthusiast eager to delve into the rich heritage of winemaking in the region, be sure not to miss a visit to The Wine Museum, conveniently located on the route to Mesa Gonia. This captivating establishment beckons travelers to unravel the fascinating history and artistry behind winemaking in this enchanting corner of the world.
One of the main attractions here is the church of Panagia Episkopi – the oldest church in Santorini. There are also numerous tiny streets here that should be visited and photographed. 
On top of that, Mesa Gonia has plenty of handcraft shops, galleries, and workshops where local craftsmen produce beautiful ceramics and textiles. Here, you may buy unique souvenirs and presents for your loved ones that will make terrific memories of your vacation to Santorini.
4. Pyrgos – Timeless Elegance: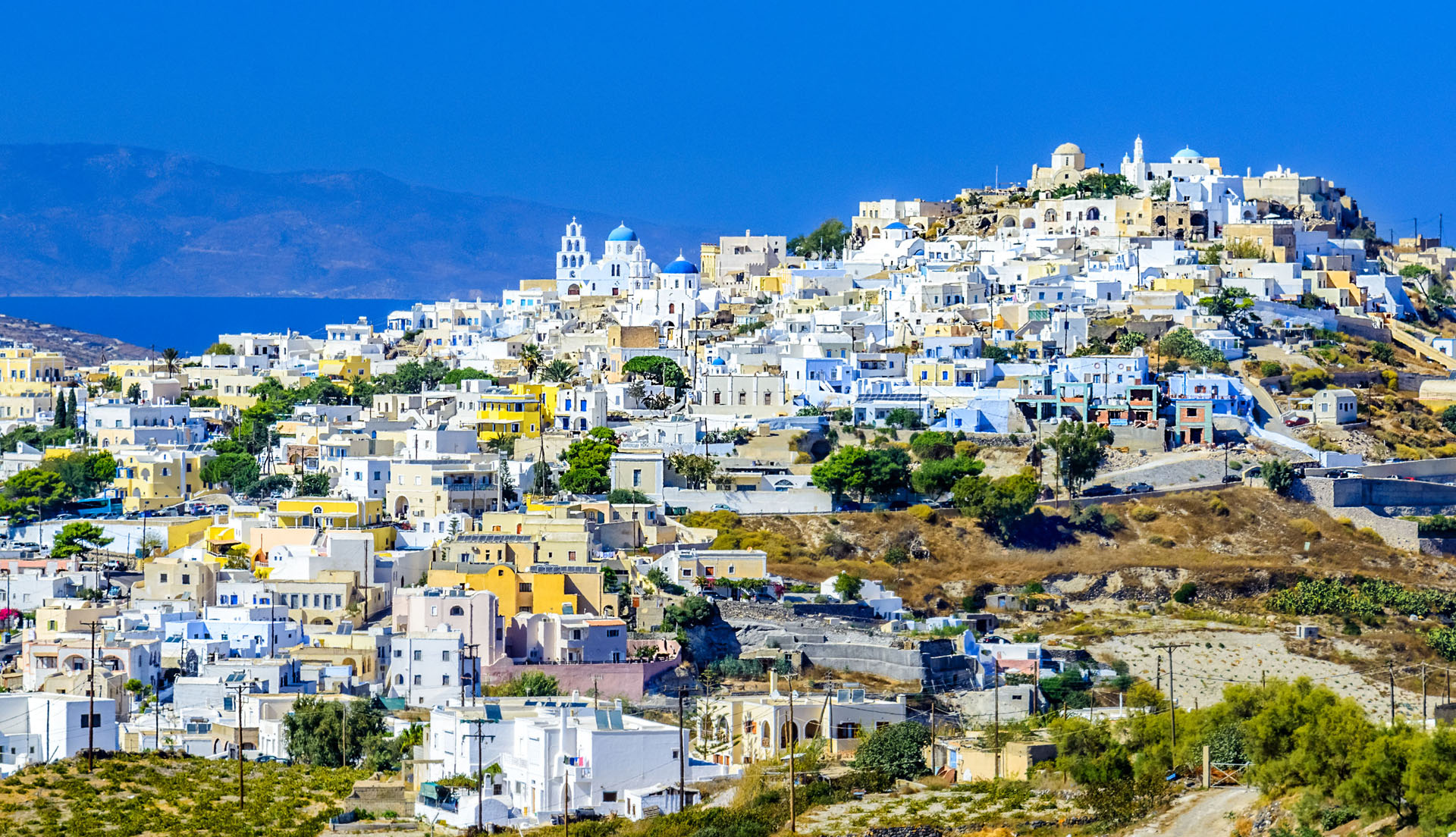 Pyrgos is another quite underrated tiny village where history echoes through every stone and alley. This adorable village is known as one of the most stunning locations in Santorini and is located on the island's highest point which rewards the visitors with insane panoramic views of Greek islands.
Pyrgos was once the capital of Santorini, and it has kept much of its distinctive architectural and historical identity. Its snow-white houses built in the traditional style of the Cycladic islands, narrow alleys, vineyards, and flower gardens create a unique atmosphere that will make you instantly fall in love.
While Pyrgos is surrounded by most of Santorini's wineries, there's more to do beyond that. There are many historical landmarks including the Pyrgos Castle, the Monastery of Prophet Elias, the church Panagia Eisodia, Aghia Triada, and the Museum of the Past which will transport you back in time.
There are also cozy taverns and restaurants serving traditional Greek food like Kallisti Tavern, where you might enjoy Mediterranean cuisine and local wine, while its panoramic views make it a perfect site for watching dawn and sunset away from the crowd of the more touristy towns.
5. Messaria – A Journey through Time: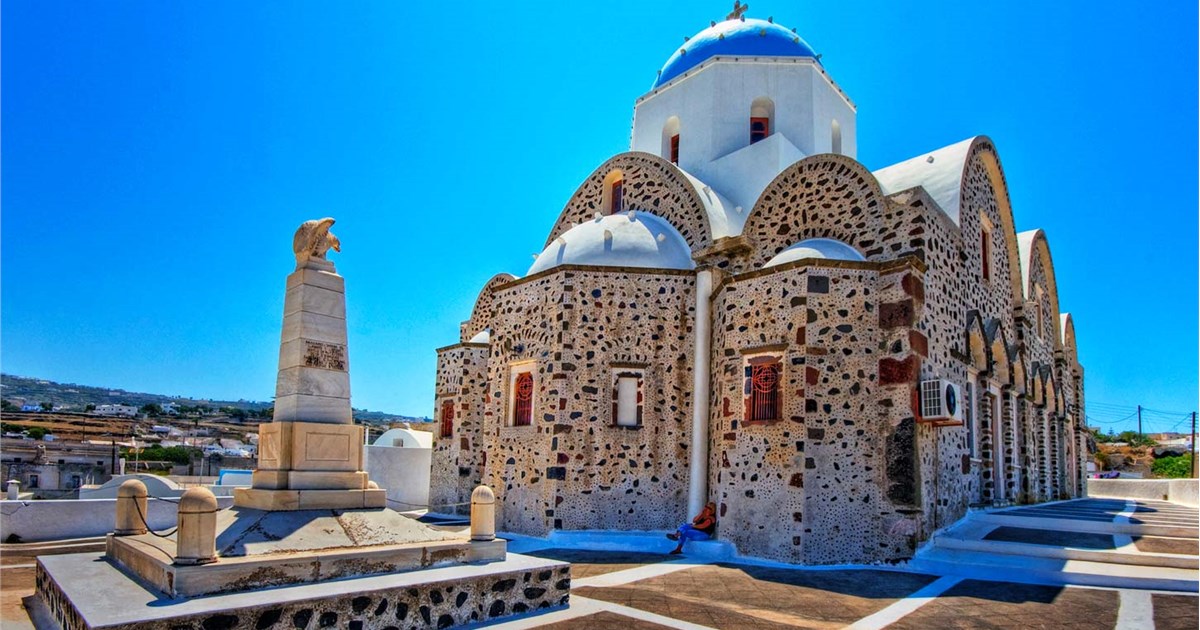 Messaria is another charming village surrounded by vineyards. This village is known for its elegant and classy atmosphere with neoclassical buildings. While Mesa Gonia has few choices of hotels, you will find a great number of hotels, cafes, and restaurants in Messaria. The population in Messaria is larger, with busy roads during the day due to the fact that it is on the primary route used to navigate the island.
Messaria is a great location for wine lovers, with the largest quantity of wine on the island produced here.
The most famous attractions to visit in Messaria are the Argyros Mansion and the Saliveros Mansion. 
Messaria's unique appeal is apparent in the evening, when the streets are illuminated with lanterns and the people come out for walks and entertainment. Here you may experience the warmth and kindness of the Greek people while enjoying the ambiance of a truly authentic village.
Beyond its Instagram-famous places, Santorini has a lot more to offer. Each of Santorini's villages – Akrotiri, Emporio, Mesa Gonia, Pyrgos, and Messaria – will give you the opportunity to forget about the hustle of daily life and experience Santorini's genuine beauty away from crowded destinations. You may truly learn a lot by visiting these sites.
  Further Reading: