When traveling, you have many options for accommodations. While there are plenty of hotels in the area, Santorini guesthouses are a popular overnight option on the island because they feel a bit more like home. As you look for ways to make your trip a relaxing, enjoyable experience, here's your ultimate guide to choosing the perfect accommodation.
What is a Santorini Guesthouse? 
Santorini houses offer home-style facilities. The owners of these private houses open the rooms to guests. One perk of the accommodation is that it is owner-operated, meaning you'll see personal touches and premier customer service because of how invested the team is in providing an enjoyable experience. In some areas, you might hear guesthouses referred to as a bed and breakfast, or B&B. While the name might differ, the experience overall is very similar. But how does a Santorini house compare with a hotel? Here's a look at some key differences between guesthouses and hotels in the area.
1. Property Size
Often, guesthouses are smaller than hotels because they are converted homes. While a hotel might have hundreds of rooms, guesthouses will have a handful.  Although there are fewer rooms, each room within a guesthouse often has its own characteristics and amenities with personal touches. While hotels might have certain hours for the front desk, the owners of guesthouses often live on the premises to offer attentive service to guests. And because their name is on the line, they go above and beyond to care for guests and ensure their total comfort.
2. Price
Generally, staying in houses in Santorini, Greece, is less expensive than staying in a hotel. And if you're planning an extended stay in the area, a guesthouse can offer additional amenities, including access to the kitchen to avoid dining out for every meal.  The average per-night hotel cost to stay in Santorini is $189. But luxury accommodations can cost more than $300 per night. Guesthouses can help you save anywhere from 10-30% on your stay. 
3. Ownership
Most guesthouses are family-run businesses. At the front desk, you might meet the owner or one of their close family members. It makes the service personal. And when you call with questions, you might talk to the owner and be able to tap into their vast knowledge of the island and the best things to do. In contrast, hotels are commercial businesses that employ a large staff to operate the facility. Each staff member likely has a dedicated role, and when you need assistance with something else, they might send you to another staff member for answers. While hotels generally offer easy access to staff and can have around-the-clock concierge and front desk services, the level of service and overall experience will differ from that of a guesthouse.
4. Amenities
Because guesthouses involve you staying at one of the many beautiful Santorini, Greece, houses, you should expect the amenities to reflect a home-like stay. Some amenities you might be used to from staying in hotels will likely not be there. Some perks of hotel accommodations are that you have access to amenities like:
A mini-bar in the comfort of your private room

On-site restaurants

Fitness facilities

Group laundry facilities
5. Noise
The larger a facility and the more rooms it offers, the more hubbub and activity there will likely be there. With hundreds of rooms, hotels have constant coming and going. And because the rooms are larger, they might offer space for more guests, which means more noise and activity. While you never know how considerate the other people staying at a facility will be during your stay, fewer rooms can mean a more quiet, secluded setting. Since guesthouses often include just a handful of rooms, you won't have to worry as much about being awakened by foot traffic in the hallway or potentially noisy neighbors in the room next to you. The other guests have chosen a more laid-back environment just like you did, which hopefully means a more restful stay.
The Best Guesthouses in Santorini
At this point, you might be sold on the idea of looking for Santorini houses for rent during your visit. Take a look at these stunning and comfortable guesthouses in Santorini for your next vacation or getaway.
1. The Fisherman's House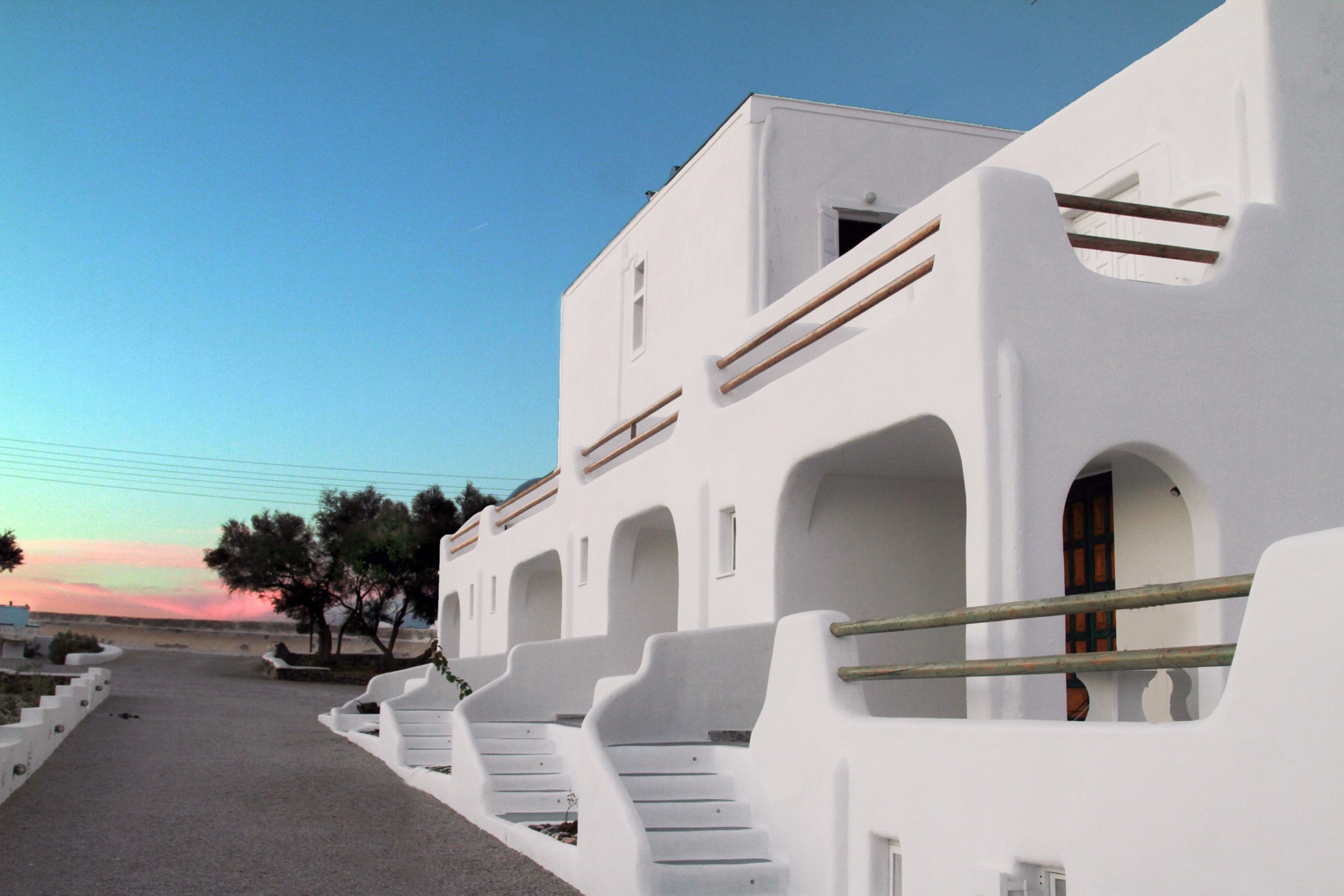 Located in the quiet village of Akrotiri, The Fisherman's House offers an excellent location with a stunning backdrop. Guests enjoy the fact that Akrotiri is a less touristy part of the island to offer a quiet stay. Additionally, guests say that the breakfast served in the room each morning is extraordinary and stands out among hotel breakfasts they've had. Some of the main attractive features of the guesthouses include:
Free Wi-Fi

Private outdoor swimming pool with an incredible view

Pool bar

Complimentary continental breakfast served in the room

Room service available

Rooms have a great view out the windows, including sea views, pool views, mountain views or garden views

Ensuite bathrooms

Excellent in-room coffee

Daily maid service

Access to laundry facilities for a fee

A team that speaks both Greek and English

Access to bike rentals

Pet-friendly facility

Free parking
On Booking.com, the facility receives outstanding reviews for its friendly staff, cleanliness, comfort, location, and value for the money. 
2. Red Stone Villa
Enjoy the outdoor pool and sun terrace as you overlook the sea. Sit out and watch the sunset from this guesthouse in Foinikia where you'll be just .9 miles from Oia and 7.5 miles from Fira. All rooms have a private balcony with incredible views. Here's a look at the most attractive features the Red Stone Villa offers.
Room service

Outdoor swimming pool

Private bathroom

Free Wi-Fi

In-room fridge

Espresso coffee machines

Excursion booking assistance

Family rooms available

Excellent breakfast

Kitchenette
On Booking.com, the facility receives outstanding reviews for its staff, cleanliness, facilities, comfort, and value for the money. 
3. Moschatos Beach House
Stay near Ancient Thera is Moschatos Beach House. You'll only be a three-minute walk from Kamari Beach where you can soak in some of Santorini's beauty. Here's a look at some of the amenities guests appreciate.
Private bathrooms

Air conditioning

Coffee machine in the room

Family rooms

Airport shuttle for a fee

Free parking

Quick and easy beach access
On Booking.com, the facility receives outstanding reviews for its staff, facilities, cleanliness, comfort, and value for the money. 
4. Oia Spirit Boutique Residences
When seeking Santorini, Greece, houses for rent in Oia, this is one of the top options. It's a short walk to Katharos Beach but you don't have to travel to take in the sea views. You'll see them out your room window.  The outdoor pool is open year-round, which is rare to find in the area. Guests rank the breakfast as exceptional. Some features guests especially appreciate include:
Free Wi-Fi

Outdoor swimming pool

Exceptional breakfast with fresh pastries and fruit

Terrace with a sea view

Airport shuttle

Walking distance to Katharos Beach

Private bathrooms

Coffee machine in every room
On Booking.com, the facility receives outstanding reviews for its staff, facilities, cleanliness, comfort, and location.
Book Your Stay in One of Santorini's Premier Guesthouses
Enjoy one of Santorini's premier guesthouses by booking your stay at The Fisherman's House now. You won't find a friendlier or more accommodating staff with rooms overlooking some of Santorini's best views. Our team looks forward to welcoming you.
  Further Reading: