If you're planning a family visit to Akrotiri, Santorini, you should make a list of activities you don't want to miss. But you'll also want to review how family-friendly the activities are and look for the best restaurants and areas suited for welcoming children. If you're wondering what to do in Akrotiri, Santorini, we've made it easy. Here's your list of family-friendly activities and attractions.
Things to Do in Akrotiri, Santorini
Bringing your little ones to Santorini is not a bad idea. There are plenty of family-friendly attractions and things to do during your stay. You can make some incredible family memories and provide your children with a cultural experience they won't find elsewhere. As you prepare for your travels, review this list of ideal activities to do as a family.
1. Visit Caldera Beach
This is a unique beach in Santorini because it is the only one that is on the Caldera coast. It's a stunning place too and is famous for its volcanic black sand. And although it offers stunning views of the caldera and is unique, it's somewhat of a hidden gem on the island. Tourists tend to flock to the Red Beach and White Beach. That's what makes this a great place to go with family. You won't have to worry about your children getting lost in the crowd or not having space to frolic and enjoy the experience. Plus, you won't need to ride a boat to get to the beach. And because Caldera Beach is just below the village of Akrotiri, it's easy to get to. If your children get tired, you can easily return to the village for a snack and some rest.  You can spend some time enjoying the harbor area and look at the boats that are moored there. If you want to, you can also take a dip in the incredibly clean and clear water.  As you walk the beach, take in the beautiful homes. Many homeowners choose to decorate with maritime motifs. There's plenty of natural shade on the beach so that you can set up camp and relax while the kids play in the water. Enjoy Remozzo, a bar, and restaurant right there on the shoreline. Whether you need a quick cup of coffee to recharge or you're looking for lunch to extend your beach trip, you'll find it at Remozzo. 
2. Dine and Explore at Faros Market
Stock up on authentic Greek foods and fresh products at Faros Market. It's also a fun place to stop for a snack and refreshments. While your children enjoy a bite, parents can take part in a free wine tasting.  During your travels, the team can also help educate children about organic farming practices for a fun learning experience.  The family that runs the market is a third-generation agricultural family. The products you find there are made without preservatives or additives for rich, delicious flavors.  And as long-term members of the community, the owners can also provide some tips and perspectives on fun things to do as a family. It's also a quaint place to sit down and relax after a busy day of travels. Sit outside to enjoy incredible views of the crystal clear waters below.
3. Participate in a Horse-Riding Excursion
Experience Santorini on horseback. You'll only want to do this as a family if you're traveling with older children that you can trust on a horse. Experience Horse Riding is a family-owned and operated business. The company has operated in Akrotiri since 1997 and breeds and raises its horses. You'll experience incredible views during your excursion and can choose between a private or group tour. Tours also vary in length based on your comfort level on a horse. The shortest tour is 20-25 minutes and will help new riders get comfortable on the horse. However, you will stay within the 10-acre horse farm during your ride.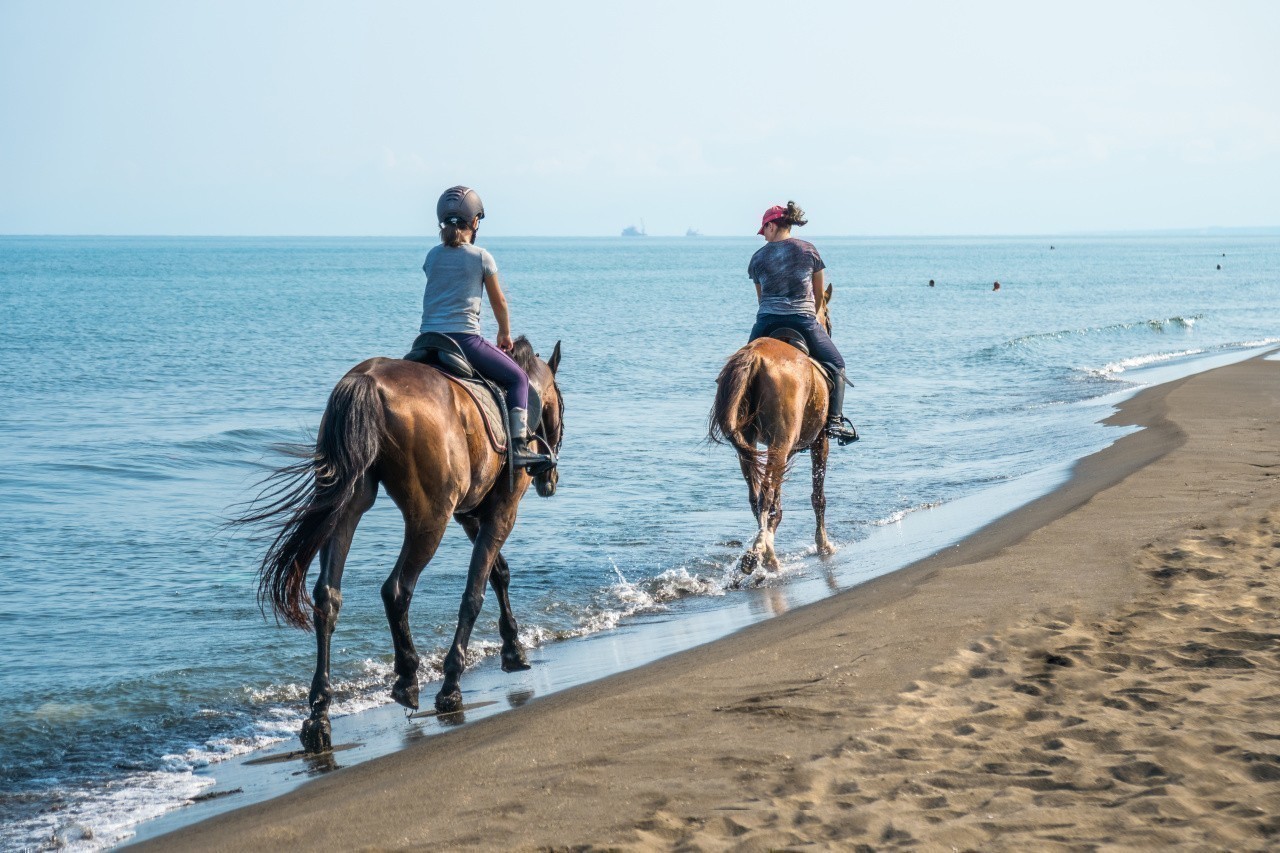 More experienced riders can enjoy the extended tour, which is 90-120 minutes. You'll start on the property but this ride will take you out past incredible views, including local vineyards and volcanic canyons. To see the incredible landscape you'll tour through, review the excursion company's social media pages.
4. Explore the Akrotiri Archaeological Site
The Akrotiri archaeological site is incredible to witness. It features ruins from the Minoan period. Archeologists believe that the Minoan civilization collapsed after the Santorini volcano erupted.  At the site, you can see ancient buildings dating back to 4000 BC. At the time, Santorini was important because of its geographical location. It was wealthy and thriving during these years, though it appears as though Santorini had its best years between 1550 and 1500 BC.  Based on the ruins, experts can tell that the Minoans had close relationships with other civilizations. But around 1627 BC, a massive volcanic eruption buried the city in ash. As you walk through the site, you'll see signs of streets, dwellings, pottery, and more. Many people believe that the city was Plato's inspiration for the story of the lost city of Atlantis. Children will find this a fun connection. When visiting as a family, it's best to work with a family-friendly guide. The guide will then provide an overview of the site with the ages of your children in mind to keep it age-appropriate and engaging. You can find family-friendly tours from Kids Love Greece. No matter how you see the site, be sure that everyone comes prepared with closed-toe footwear. Also, be aware that the site is also under cover, so even if the day you'd planned to visit turns out to have rainy weather, you'll be able to still explore freely.
5. Visit the Volcano
You'll need to travel outside Akrotiri for this one, but it's a fun activity that will engage young travelers. Just one hundred years ago, two new islands formed off the coast of Santorini thanks to volcanic eruptions. You can go to these islands and hike the volcanos.  You'll need to book a boat tour to reach the volcano. Boat tours also limit the time you can spend on the small islands but it's still worth the trip. Working with a tour boat also means you'll get to learn more about the volcano's history as you explore. When the kids get home, they'll be so excited to share their volcano experience with their friends.
6. Dine at The Good Heart Tavern
The Good Heart Tavern is a family-owned restaurant that gladly welcomes young guests. Whether you're working with a picky eater who isn't sure what sounds good or you want a place your little ones can freely get up and move around without concerns about it causing a scene, you'll find that at The Good Heart Tavern. When dining here, you'll enjoy locally grown and freshly cooked dishes. You can also shop for traditional Santorini products at an affordable price with one of the most hospitable teams you'll find on the island. The setting is stunning and will offer a memorable experience for everyone.
Should You Visit Akrotiri, Santorini, with Kids?
Akrotiri is well known as one of the most family-friendly areas in Santorini. But that doesn't necessarily make it a family destination. Most of the travelers you'll see in Santorini are adults. But if you just have to see the island for yourself while you're still raising young children, you can certainly make it work. Here's a look at the pros and cons of traveling with children in Santorini. Pros
The beaches and swimming locations will help you make incredible memories

Participating in boat tours will delight young travelers

The winding paths and alleys throughout the small towns are a unique experience for young travelers and fun to explore

The island's rich history can teach children something while also helping them create lasting memories with you
Cons
The majority of travelers on the island are adults, but rest assured that many children live on the island so your children won't be alone at restaurants and beaches

Terrain even on the beaches can be rocky so children need to stay aware and wear proper footwear.

Travel to Santorini can get expensive and many hotel rooms are smaller, making it challenging to accommodate more than two guests

Some of the main draws to the island are its wine and food, which are not the most family-friendly activities
Once you've weighed the pros and cons of bringing your family to Santorini, you'll need to find an ideal place to rest your head after your adventures. The Fisherman's House in Akrotiri, Santorini, offers a relaxed atmosphere away from the crowds. It is family owned and operated and one of the few hotels on the island with a private pool, perfect for enjoying the afternoon with children.  Depending on the size of your family, you might need two rooms, but at affordable rates, that shouldn't be cost-prohibitive. Plus, you'll enjoy breakfast in your room every morning. Check availability now as you plan your ideal family vacation. 
  Further Reading: