Traveling to Santorini offers the chance to explore a stunning new locale. The water is clear, the air refreshing and the food incredible. But long before you arrive, you need to decide whether a Santorini bed and breakfast or hotel will work best based on your travel requirements.
Seasoned travelers have shared their insights on what to expect when staying at a B and B versus a hotel. Learn the ins and outs along with some of the leading options on the island.
Santorini Bed and Breakfast vs. Hotel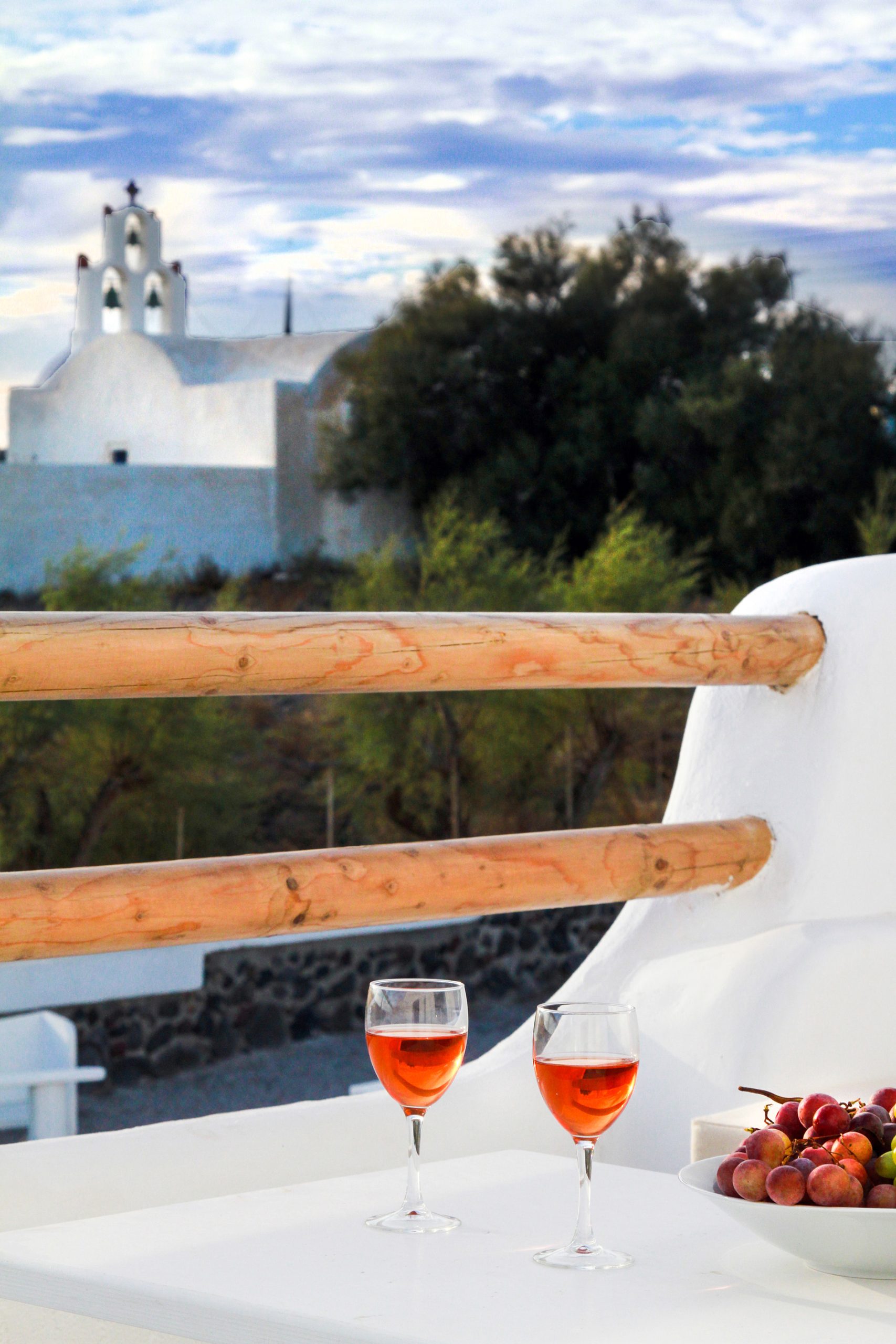 As you work to decide between a bed and breakfast in Santorini versus a hotel, review these key differences between the accommodations.
1. Room
In a hotel, most rooms within a property look very similar. While you can choose how many beds and their size, you don't have lots of options about what the room looks like or what accommodations you'll find inside.
At a bed and breakfast, every room is unique. Some property owners theme the rooms or make them unique in some way. Regardless, each has a unique format and distinct style.
You might even be able to choose the architectural style that you prefer to enjoy stunning artistry and an experience of your choosing. Surround yourself with the environment you prefer when booking your Santorini B&B accommodation. 
2. Amenities
The amenities you'll find in each overnight option will vary greatly based on the property. In some instances, booking a hotel offers more amenities, while in others, the B&B is a better option.
Most properties provide free Wi-Fi now, which is great for international travelers trying to avoid paying for a special phone plan while traveling but want to stay in touch with friends and family.
Depending on the property, the B&B might also host cocktail hours or provide unique breakfast foods you won't find at chain hotels. You might also find free parking and some essentials provided free of charge in your room, such as bottled water or minor snacks.
Both property types often have a pool, but at a B&B, the pool will be more secluded because the property is smaller, meaning there are fewer potential guests that you could encounter while relaxing there.
3. Front Desk
Both a B and B in Santorini, Greece, and a hotel will offer front desk staff to help you in case you need it. But some smaller properties have more limited hours for the staff, so just be sure you know those hours and plan around how they could impact you. 
Most front desks only close for late-night hours if they close at all. And after exploring Santorini, you'll likely be sound asleep during those hours as well.
4. Breakfast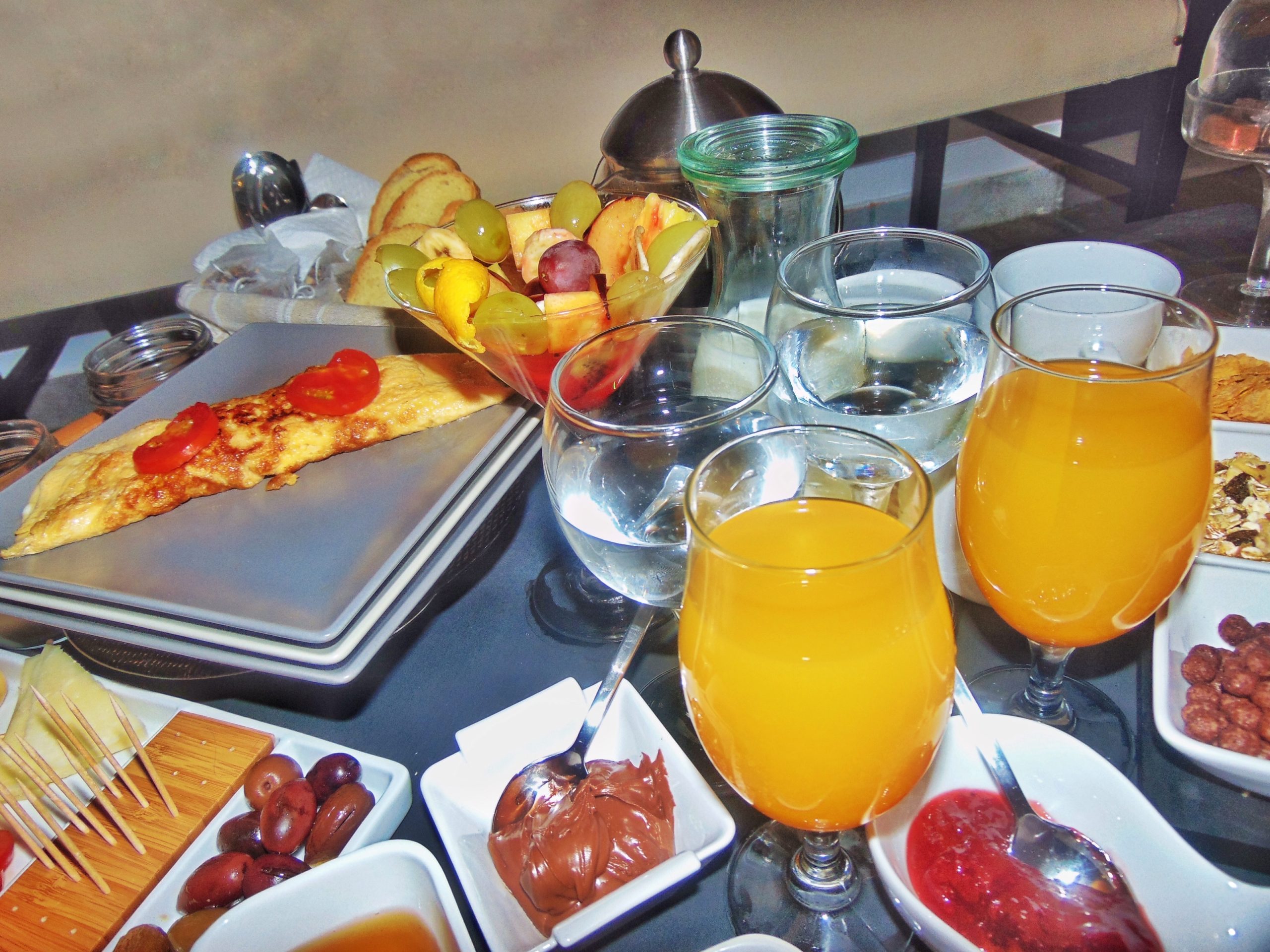 Both hotels and B&Bs offer breakfast. But you'll notice a difference between the two. Most hotels make food for many people, meaning it tastes a bit more like cafeteria food. But at a B&B, the owners are catering to just a few dozen guests at most. That means you'll likely get a homemade breakfast that matches what's in season in the area and local culinary traditions.
And if you have dietary restrictions, you can discuss those with your B&B to make slight alterations or request special food handling to avoid contamination with allergens. Many property owners take pride in offering an authentic Santorini experience when preparing their B&B breakfast menu.
5. Booking Experience
Believe it or not, the booking experience between a B&B and a hotel won't be all that different. Many Santorini B&Bs offer online booking directly through their website so you don't have to worry about added fees from platforms like Airbnb or risks of losing your reservation through platforms like Expedia or Booking.com.
Just be sure you're booking through a secure website by checking for the https in the website before completing your transaction. You'll still get a confirmation email you can have in hand at check-in for a smoother process.
Best Santorini B&B Properties
Before you get too deep into your research into an ideal bed and breakfast for your Santorini stay, know that on the island, they also refer to these as guesthouses. So don't get confused if you see the name Santorini guesthouse instead of bed and breakfast. 
1. The Fisherman's House
Located in the quiet village of Akrotiri, you'll enjoy your stay at The Fisherman's House. Out of 144 Google reviews, the property gets 4.8 stars out of 5. The property is affordable, starting at $80 per night depending on the season you book, your room preference, and how early you book your trip.
Each morning, enjoy a fresh breakfast complete with local fair delivered directly to your room. You'll also have access to a private pool that overlooks the water. Don't worry about having to go out for afternoon cocktails. Instead, just head to the poolside bar to enjoy your favorite beverage to relax and enjoy.
Here's what one traveler had to share about their experience at The Fisherman's House.
"Excellent hotel with lovely staff who made us feel so welcome and helped us with organising dinners, car hire, and transfers. The hotel itself has amazing views and is within walking distance to Akrotiri, bus stops, and a few different beaches. It has a great-sized pool and a very relaxing atmosphere. The rooms have good air conditioning and amenities such as a fridge, toiletries, hairdryer, and towels (including beach towels if needed). Breakfast each morning was great and came with a variety of options served. We also loved the cute playful cats that live around the property. Would 100% recommend this hotel to anyone and hope we can return again soon!"
2. Aretousa Villas
Another top-rated B&B in Santorini is Aretousa Villas. The property has 112 Google reviews with a 4.8 out of 5-star rating. Stay in Perissa, a seaside Santorini village. The area is popular for its Black sandy beach, which is just 250 meters from the property.
In addition to a traditional outdoor pool, Aretousa Villas also has a children's pool, which is rare to find on the island that mostly adults travel to. Enjoy breakfast out on the terrace and then relax on the sun lounges as you take in the mountain views.
This recent guest summarizes the experience well.
"Location is perfect, very close to the beach and restaurants. We had a traditional room with the curved ceiling and a very pleasant view. The owners were beyond welcoming and friendly. They made our stay here stand out above all the other hotels we've stayed at in Greece."
3. Galini Hotel
Despite the name, Galini Hotel is actually a bed and breakfast located in Oia. You'll find traditional Greek hospitality at the property alongside a continental breakfast served daily. Parking is included with your stay. Every room also features a fridge and a private bathroom with a shower. 
The pool and poolside bar are great places to relax after a day of exploring the island. You can choose from a single room, double or apartment to get the space you want during your travels.
After 86 Google reviews, the property has 4.4 out of 5 stars. Here's what one customer shared about their stay.
"This place is amazing. The location is perfect. The room was always clean and very comfortable. You can enjoy a swimming pool and a large terrace with beautiful views where you can enjoy the famous sunset. The breakfast was delicious and very complete, every day they surprise you with different homemade dishes. Ana and the rest of the staff were super friendly and attentive at all times. Ana gave us recommendations to visit the island that were really very useful. I recommend this place 100% without a doubt I will repeat if I return to Santorini."
Booking Your Santorini B&B
If you've concluded that a Santorini B&B is best based on your needs, here's how to book your stay at one of the premier properties on the island. The Fisherman's House is ready to make your stay memorable and enjoyable. View availability now to secure your preferred travel dates and the best possible rates.
Further Reading: